亲爱的读者,如果你在关注我的文章,是否正期待着阅读那个玻璃镜片城市的故事的下一篇呢?仔细在内心考量,自认《目光之城》称不得是第二语言的写作,因为我想,写作背后更多的应是作者的思维逻辑、写作布局、语言习惯,以及观点与情感表达的动机,而这些,都是我仍然还没有捕获到的。尽管如此,还是在这里献丑了,愿你在阅读的时候,享受看故事的宁静。安~
Chapter 2 Mr. Round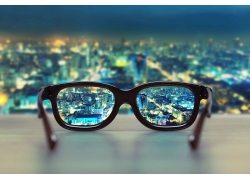 Mr. Round works as one proofreader mostly in night shift. It seems he should have slept in daytime, to guarantee the quality of articles he corrects… but he just cannot help to hang out with girls or his client friends—he works part-time in private for one well-known cosmetic brand—in most day time. O. Yes, that is our human nature. How can we stop pursuing the happiness around us, especially the magic agent—money, being young? And we cannot blame a young man whose activities cannot be called harmful to others, especially when he is a perfect talker good at speech and just trying to make potential big money—the reason he comes to this big city.
Mr. Round has a sister too, who always admires his glory stories of success that how a poor boy coming from rural countryside finished self-education and won his place in such a modern city. Different from Mr. Handsome, Mr. Round and his younger sister were raised up by their parents together, a happier family, though they have little chance to get higher education after high school. Just as what had been talked around that if you were not from a governor or successful businessmen's family, you'll have less money, less access or chance to study in the university, later then less income in some fortune company to enjoy the leisure of this wonderful world.
Mr. Round always puts on glasses when he comes into the office though he is not really nearsighted but he may do need them to see clearly the words he proofs, and he always takes the glasses off after work, maybe it is that he tries to relax the tension from his glasses' tips which have just stood on his nose bridge for hours. He would not be the male lead in this story. Whatever, he starts actually this story.
Both Mr. Round and Mr. Handsome could be said attractive, appealing for better attention in crowds of people. Mr. Handsome is pretty tall and he just always cannot help to think and thank his mother, who gave him such natural physical gift, whenever anybody admires his height and shape.
Though Mr. Round is a bit shorter, he has more delicate facial features, especially his bright eyes. The fact that almost all people working for this newspaper have impressing appearances reminds us of the importance of appearance.